Engr. Nurudeen Adeyemi Balogun, the founder, and principal of ENACT and ENACT Innovation Hub located at Ajase-Ipo, has felicitated with the Olupo of Ajase-ipo, His Royal Majesty Oba Ismaila Muhammed Atoloye Alebiosu, the paramount ruler of Igbomina in Kwara State.
Engr. Adeyemi described him as a father, a people person whose reign has brought immense growth and development to the people of Ajase-Ipo and its environs. We, the Igbomina people, are very appreciative of his leadership drive that is hinged on the development and progress of the Igbomina people.
"You have displayed responsibility and commitment towards maintaining peace in the community, and the entire team at ENACT is grateful to God for the wisdom he has bestowed on you that has distinguished you." Engr. Nurudeen Adeyemi remarked.
"I pray for more years in good health, wealth, and prosperity for you, Kabiesi. May your reign be long and may it continue to be blissful" – He continued.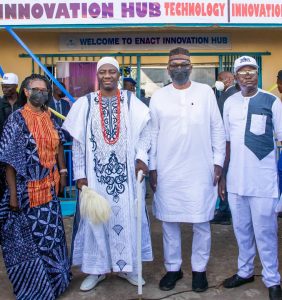 ENACT founder also commended the monarch for his support for the prestigious digital initiative ENACT innovation hub that is sited in Ajase-ipo, which has continued to attract praise and commendations across the entire Kwara South District and beyond.
ENACT Media Team