ENACT PRINCIPAL, Engr. Nurudeen Adeyemi Balogun has been honored at the 4th Annual Personality Lecture/Magazine Launching organized by the Postgraduate Students' Association, (POGSASS) of the University of Ilorin.
The event which took place at the University of Ilorin Main Auditorium was held in honour of His Excellency, Mal. AbdulRahman AbdulRazaq, the Executive Governor of Kwara State.
At the powerfully packaged event, Engr. Nurudeen Adeyemi Balogun was given a special Award of Recognition as Vanguard of People's Personality.
Receiving the award on behalf of Engr. Nurudeen Adeyemi, Hon. Waheed Olanrewaju Abolaji, ( Ale'nul'oro) said, "I am beyond blessed and humbled to receive the award on behalf of our principal at ENACT."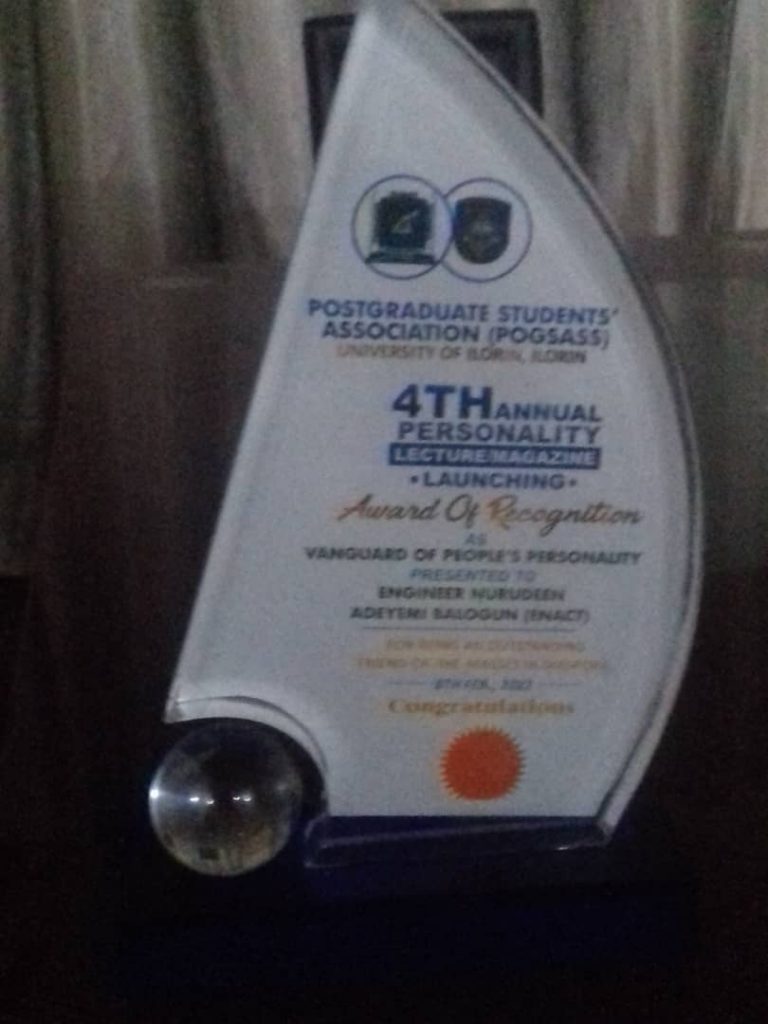 More encouraging is the fact that Engr. Adeyemi Balogun was specially recognized alongside the Executive Governor of Kwara State, Mallam AbdulRahman AbdulRazaq, Sen. Ibrahim Yahaya Oloriegbe, the Distinguished Senator, representing Kwara Central at the National Assembly, and other notable Nigerians.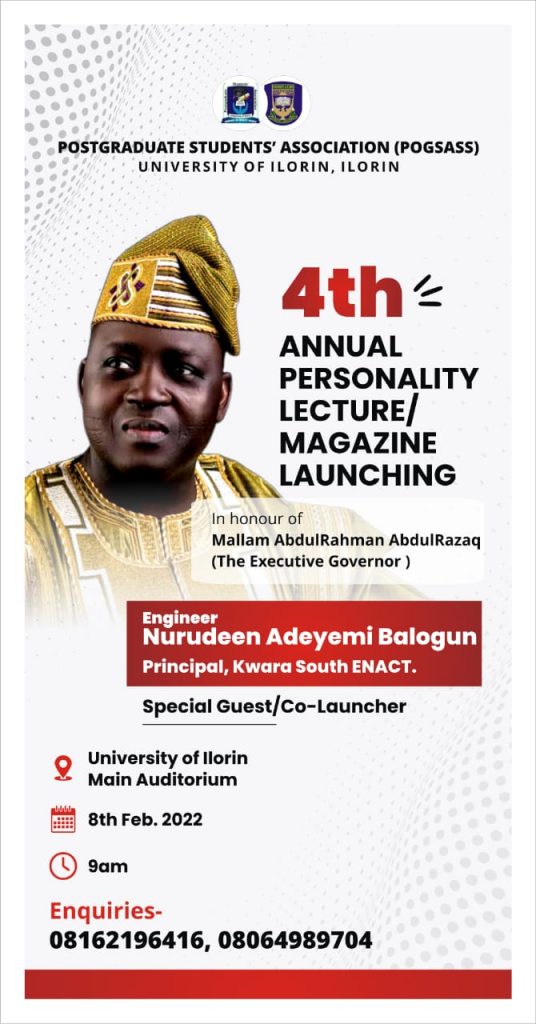 There is one thing I know about awards – it is mostly for the people who do all the hard work behind the scenes. An award is just a clap at them.
Engr. Adeyemi Balogun while embarking on his selfless and humanitarian ian services, is not a personality that engages him humanitarian services just for people to notice or give him commendations. Many of his humanitarian gestures are done without the gram or wanting commendations.
This kind of award is merely an impetus to do more. Even though the ENACT PRINCIPAL may not set out to garner awards, however, this award is an affirmation: it means that people see and appreciate what he does. Like every award he had received in the past, this, also, is a confirmation of his uncommon benevolence and savvy, which tends to inspire him to do more.
On behalf of the ENACT FAMILY, I congratulate our Principal, ENGR. NURUDEEN ADEYEMI BALOGUN for adding yet another feather to his cap.