Entrepreneurship Development Training (day 1)
The ENACT INNOVATION HUB Ajase-Ipo commenced its second session of training today February, 14 2022.
Participants who have been earlier shortlisted were welcomed by the training team to the hub where on site verification was done and then introduced to the business of the day.
While 38 participants were shortlisted for the training, the training session kicked off with the 12 participants that made it to the first day of the ENTREPRENEURSHIP DEVELOPMENT TRAINING, which is a two weeks hands-on intensive training program.
The training featured:
1. Introduction to Entrepreneurship Development.
2. The fundamentals of Entrepreneurship Training.
The training featured an hands-on approach that includes a brainstorming session where the participants talked about:
1. some big businesses that existed between 1980 -2010.
2. Are they still in existence?
3. And how upcoming Entrepreneurs can benefit from their story.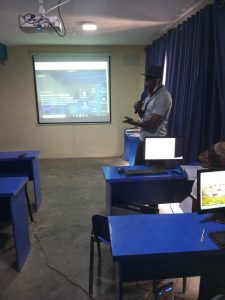 The participants were excited with the training concept and thanked the founder of ENACT INNOVATION HUB, Engr. Nurudeen Adeyemi Balogun for the initiative behind the hub.
The training continues tomorrow.
Registration is open and ongoing…
Www.hub.enact.com.ng